The ProS3 includes the following features:
Dual 32bit Xtensa LX7 cores @ up to 240Mhz
RISC-V Ultra Low Power Co-processor
2.4GHz Wifi - 802.11b/g/n
Bluetooth 5, BLE + Mesh
16MB QSPI Flash
8MB of extra QSPI PSRAM
2x 700mA 3.3V LDO Regulators
LDO2 is user controlled & auto-shuts down in deep-sleep
Low power RGB LED
ULTRA LOW Deep Sleep Current
USB-C Connector with back-feed protection
USB ESD protection
Native USB + USB Serial JTAG
LiPo Battery Charging + PicoBlade connector
VBAT and 5V Sense Pins
3D High Gain Antenna
STEMMA QT connector powered by LDO1
27x GPIO including castellated headers
JTAG pins on the header
TinyPICO/ProS3 compatibility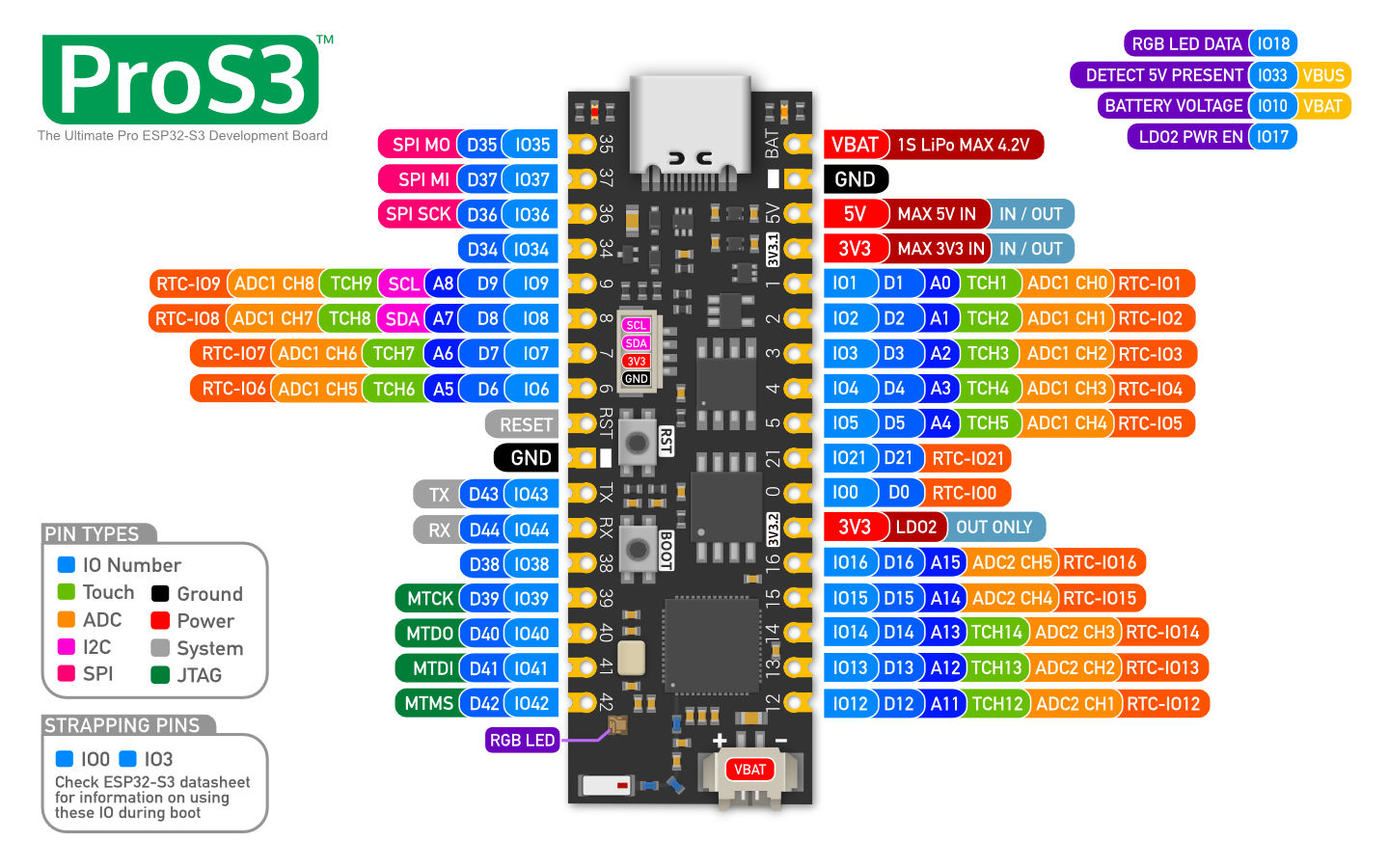 53mm x 17.8mm
5.4mm at the vertical STEMMA QT connector
2x 3.3V Regulators? Really?
Yup! The first one is for the general operation of the board and the ESP32-S3, PSRAM and Flash.
The second LDO is for you to use to connect external 3V3 modules, sensors and peripherals, and it has programmable EN control tied to IO17 + it's connected to the deep sleep capabilities of the ESP32-S3, so if the ESP32-S3 goes into deep sleep, the 2nd LDO is automatically shut down for you!
Both regulators are ultra low noise and have ultra low quiescent current, and both support a maximum of 700mA output.