Re-Flashing Your Board
From time to time, you might want to try out different programming languages on your ESP32-S3 board, or you might just want to update the version of CircuitPython or MicroPython you are using. To achieve this, you'll need to learn how to put your board into different boot modes.
Getting into DOWNLOAD Mode
Putting your board into Download Mode will force your board to restart in the CDC bootloader mode and enumerate a new serial device (COM port for Windows users). Form there you can flash the board using that serial port.
This mode is used to flash a new version of the UF2 bootloader, or a new version of MicroPython onto your board, or even to flash some IDF or Arduino Code, if you are not enabling the native USB on boot-up.
To get your board into Download mode:
Press and hold the [BOOT] button down
Click the [RESET] button
Release the [BOOT] button
There is no visual cue on the board that it is in Download mode, but you should now see a new serial device appear.
Getting into UF2 Bootloader Mode
Putting your board into UF2 Bootloader will force your board to restart and present you with a USB mass storage device in your file explorer - assuming you have the UF2 bootloader still installed and you have not stomped it by flashing Arduino, MicroPython or IDF code on the board.
All Unexpected maker ESP32-S3 boards ship with CircuitPython and the UF2 Bootloader installed by default.
To get your board into UF2 bootloader mode:
Click [RESET]
When the RGB LED is turns purple, click [BOOT]
You should now be in the UF2 bootloader mode. You will then see the RGB LED on your board turn green once the filesystem is mounted.
Flashing in the Arduino IDE
When using the Arduino IDE for development, there are a few things you need to be aware of.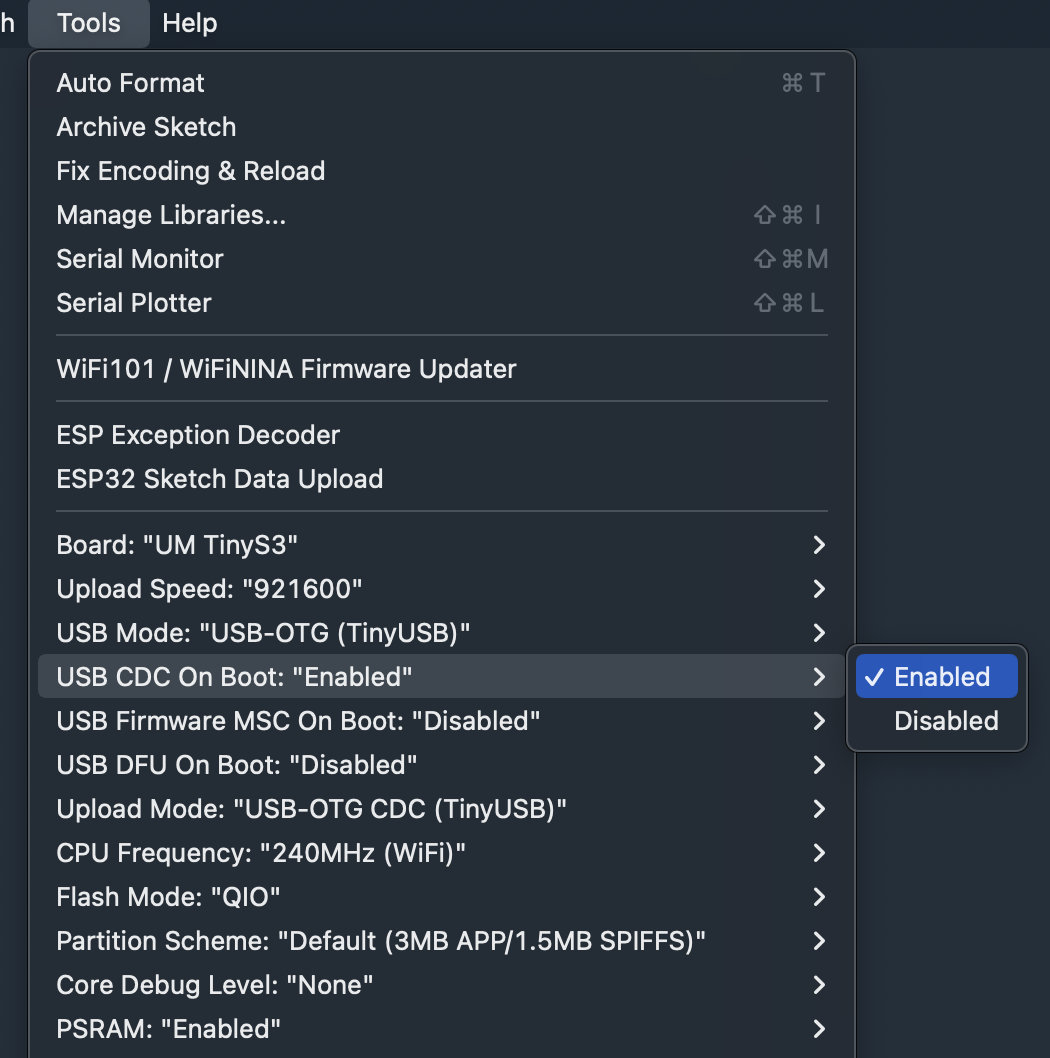 The Unexpected Maker ESP32-S3 boards leverage the native USB inside the S3 chip and do not use an external SerialUART chip like older ESP32 boards did. This means you need to
enable the CDC on boot
option in the Arduino IDE tools menu to ensure the native USB is enabled when your code runs.
Please also select the
USB OTG (TinyUSB)
option and ensure you have selected the correct
UM Board
definition from the boards list.
NOTE!
There is a ROM Mask bug in the current ESP32-S3 silicon that prevents the flashing process from resetting the board after flashing has finished, which means for now, you need to manually press he [RESET] button after flashing to manually reset the board so your code start running. Updated silicon from Espressif will fix this issue hopefully!
Using PlatformIO
When using the PlatformIO for development, to enable the native USB for flashing/re-flashing, you'll want to add:
build_flags = -DARDUINO_USB_MODE=1
To your config, which is the equivalent of enabling the
Enable the CDC on boot
option in the Arduino IDE.
NOTE!
As PlatformIO leverages the Arduino ESP32 Core, it also suffers from the same issue where your board cannot be automatically restarted after being flashed, and will require you to manually press the [RESET] button yourself to get your code to start.