The FeatherS3 includes the following features:
Dual 32bit Xtensa LX7 cores @ up to 240Mhz
RISC-V Ultra Low Power Co-processor
2.4GHz Wifi - 802.11b/g/n
Bluetooth 5, BLE + Mesh
16MB QSPI Flash
8MB of extra QSPI PSRAM
2x 700mA 3.3V LDO Regulators
LDO2 is user controlled & auto-shuts down in deep-sleep
ULTRA LOW Deep Sleep Current
USB-C Connector with back-feed protection
Native USB + USB Serial JTAG
LiPo Battery Charging
Low power RGB LED
VBAT and 5V Sense Pins
3D High Gain Antenna
2x STEMMA QT connectors, 1 on LDO1 and 1 on LDO2 !
21x GPIO including castellated headers
Feather Format compatibility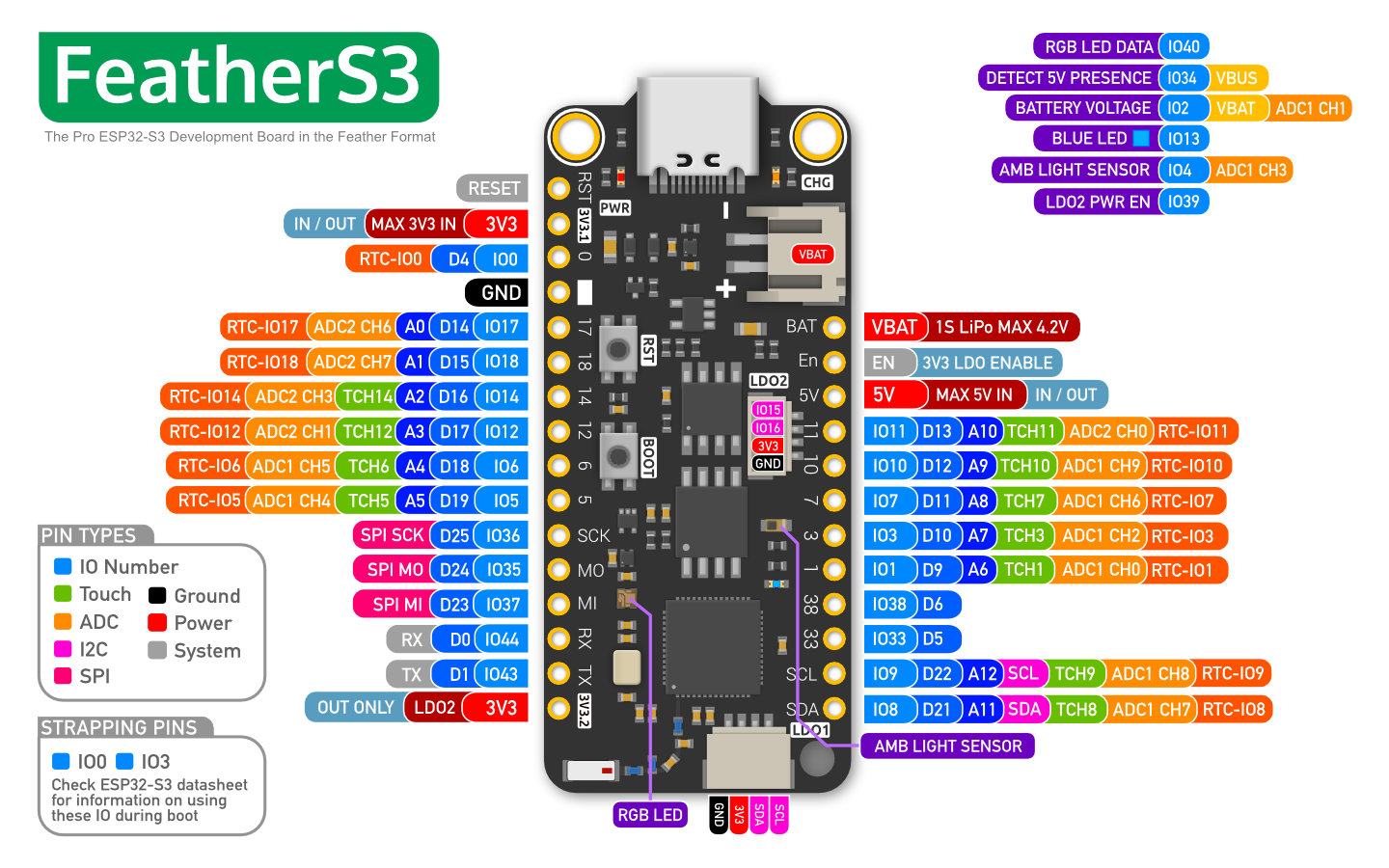 52.3mm x 22.9mm
6.6mm at JST PH battery connector
2x 3.3V Regulators? Really?
Yup! The first one is for the general operation of the board and the ESP32-S3, PSRAM and Flash.
The second LDO is for you to use to connect external 3V3 modules, sensors and peripherals, and it has programmable EN control tied to IO39 + it's connected to the deep sleep capabilities of the ESP32-S3, so if the ESP32-S3 goes into deep sleep, the 2nd LDO is automatically shut down for you!
Both regulators are ultra low noise and have ultra low quiescent current, and both support a maximum of 700mA output.
2x STEMMA QT connectors?
Yes! One of the biggest feature requests I had about the FeatherS2 was that the single STEMMA QT connector was connected to LDO1 instead of LDO2. That was by design as there are plenty of use cases where you want your external sensor or module to stay powered when your ESP32 goes into deep sleep.
To solve this on the FeatherS3 I squeezed in a second STEMMA QT connector!!! Now there are 2!
The second STEMMA QT connector (The vertical one) is connected to the second LDO for power, so any I2C modules/devices you have connected to the that STEMMA QT connector will automatically power down when the ESP32-S3 goes into deep sleep or if you disable the second LDO via IO39.
Both STEMMA QT connectors share the same I2C BUS along with the 2x I2C pins broken out on the pin headers.